Playing EA Sports' NHL is a real roller coaster ride. One second you are all "This is the best game on the planet! Weeeee" then you get scored on a couple times… "F#&K this game!!". Yeah we've all been there. One look at the EA Sports NHL Facebook page comments and you will see there are a lot of people getting scored on… seemingly very often 😀
Yeah I know it was a bullshit goal… but how are you going to rebound from it? Curse at EA? Break your controller? Send the opponent your unfiltered thoughts? Rage quit? All very appealing options at the time. However, I've done an unofficial experiment over the past 10+ years and can promise you that none of those options are very effective for getting a win, scientifically anecdotally proven!
This post will cover tips and tricks on resetting momentum and regaining your composure to make an epic comeback.
Top 30 Versus Example
We'll start with an example, I recently had an intense game with a top 30 overall ranked Online Versus player, I won't spoil it. Momentum was going back and forth all game so trying not to get rattled was critical. It was a very defensive game so not sure it will be much fun to watch the raw gameplay, but let me know if you enjoy it and I'll include full gameplays more often.
Feel free to skip this section if you're not interested.
Final score: 3-2 OT win
First off, I've played Dan Smashes You a couple times now - I've never actually spoken to the guy but a lot of respect for him. Definitely an elite player and doesn't do any of that cheap stuff like ragging the puck. 10/10 would play again.
Secondly, that game could have really gone either way. To be honest he probably should have scored at least one on that 5-on-3 at the end, Mrázek was standing on his head for me.
Timeout
You have one timeout available to you every game via the pause menu: Manage Teams > Call Timeout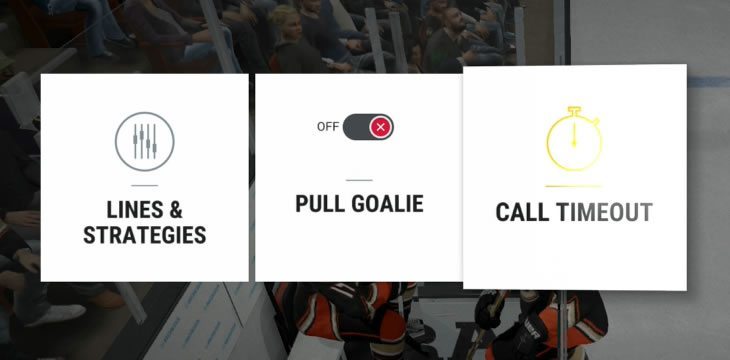 This will replenish the energy of all your lines as well as your opponents. In my experience, it helps reset the momentum of the game as well; I don't have a source to confirm that but whether it's a placebo effect or not it still helps. If you just let your opponent continually build up their momentum then it's going to be a slippery slope for ya.Timeouts aren't only for near the end of the game! If I get a couple goals scored against me in quick succession even in the first period then I'll likely take my timeout. It also gives you a moment to reflect on the goals that just occurred and what strategies you may want to adjust. We'll cover that portion next.
Just keep in mind that timeouts also replenish your opponents energy so if you know they are more fatigued than your team then you might want to hold off on it.
Strategies
This one is very important. How did you just get scored on? Point shot? One-timer? Snipe from the slot? In most cases, there is something you could have been doing to avoid it. For example, check out this clip:
Afterwards I changed my Defensive strategy to Tight Point. He had way too much room up there and given how easy that was for him there is a good chance he would continue attempting it.If you're playing against a team faster than your own then make sure your Offensive Pressure is set to "Conservative" or "Defend Lead" so your D men stay back on rushes. In addition, Make your Offensive Zone Bias "Sit Back" unless you are really needing a goal – that way your players will get into the neutral zone trap earlier before your opponent has the opportunity to get an angle on them.
Those are just a couple examples. The main point here is to recognize HOW your opponent scored on you and then counter it – come back confident that they won't be able to easily do it again.
Fighting
Fights can be a great, but risky, way of getting momentum back on your side. A huge benefit of them is that if you win then your team's energy is fully replenished whereas your opponent's is only partially, unlike timeouts.

If you're wanting to use this tactic then make sure you check out our NHL 17 Fighting Guide, unless you are already the Muhammed Ali of NHL.
Conclusion
Use timeouts strategically, keep your cool, and be aware of how your opponent is scoring their goals so you can adjust your play accordingly. Now I feel like this whole post could have been replaced with just that last sentence, but anyways… I've already written everything so it's all going up!
See ya at Wal-Mart; save a controller for me.
PS. While I was making this I noticed a fellow redditor posted a similar tip style post recently from more of a post-loss perspective. Worth a read! Domer's Pro Tip For Reducing Rage
If you aren't already, I recommend joining the NHL HUT subreddit, awesome community of players that are really all about just having fun with the game. It's very well moderated too – they keep out all that toxic stuff.