This is a continuation of my first NHL 18 Coaching Strategies post that focused on offensive, defensive, and neutral zone strategies. In part two we will cover offensive pressure, breakout, power play, and penalty kill strategies.
Same as in part one I have taken the general descriptions from in-game to ensure they are accurate. Then I watched some AI vs AI while "coach" position locked or played vs AI getting screenshots/gameplay to give a more accurate representation of each strategy.
Many of the in-game descriptions for part two are decent but still likely difficult to visualize; especially if you aren't familiar with hockey strategies in general. I definitely cleared up a lot of my own questions while working on this guide. For example, what the hell does offensive pressure actually do? Great question! Let's start there…
*For consistency and readability sake all strategies illustrated in screenshots and video below are done from the perspective of the same team, Vancouver Canucks.
Offensive Pressure
How to adjust: Up or down on the D-Pad to bring up the menu then up or down again to cycle through pressures.
Based on the tests I did, this controls the positioning of your players while breaking out of your own zone and how aggressively they will jump on loose pucks to transition into a breakout. Makes sense since it is in the Breakouts menu. The tests I did here included watching AI vs AI, playing vs AI, and connecting two controllers to play myself while changing the pressures – yeah my life is pretty exciting, I know.
If you are on Aggressive or Full Attack then you will notice your defenseman jump up into the rush and your forwards will push a little further through the neutral zone. This depends on the Control and Quick Breakouts that you are using as well – we will cover those in the following sections.
When it says "aggressive" or "full attack" it's not talking about the hitting/body checking kind of aggression, it's talking about the aggressiveness of your players positioning and how risk oriented they will be. If you're here wanting your players to attack the puck carrier more often while defending then change your Defensive Pressure.
On the other end of the spectrum for offensive pressures we have Defend Lead. This means your players will stay a little further back and your defense won't come up into the play at all. They will stay behind the puck carrier to ensure they're available to defend in the event of a neutral or defensive zone turnover.
Here are the different pressures and their in-game descriptions:
Defend Lead:

Players will not take any chances

Conservative:

Players are cautious about getting caught up ice

Standard:

A good mix of cautious and aggressive play

Aggressive:

Defense will take some chances

Full Attack:

players are only thinking about offense
This video below contains two clips that will illustrate what I mean by both aggressive positioning and more risk oriented behaviour.
Clip 1: Notice how the defender and forward move further up the ice into a more aggressive position when we increase the pressure. That puts them in a better attacking spot but of course leaves us more vulnerable if there were to be a turnover.
Where they move up to will depend on several factors including: where the puck is, who has the puck, what breakouts you're using, and I'm sure many other unconfirmed variables within the game. This should give you a good idea of what to expect though.
Clip 2: Keep in mind, the second one is an AI vs AI clip so I didn't have any real control over the players besides changing the strategies.
Edler is the last defender back in this scenario and as the puck is knocked loose he immediately steps up and transitions into a quick breakout up the ice. Obviously a very risky play because if he didn't get that loose puck then you can see it would be a clear breakaway for NYR. I had it set on "Full Attack".
Offensive Pressure does also affect whether your players will dump or carry the puck in, even on the penalty kill. I wrote a Stop Your AI From Dumping the Puck post on this earlier that you may or may not have already read. If you go "Full Attack" your AI will never dump the puck out of your zone while shorthanded, they will try to carry it out and start a rush.
Tip: If you're playing 2v2, 3v3, or even 4v4 in the EASHL and don't have humans for both defenseman then I recommend very rarely putting this past Standard. Having your defensemen push up into the rush is asking for trouble. If you've had the scenario where you turn the puck over in the neutral or defensive zone and one or both of your defenseman are way up at your blueline in no position to defend resulting in an easy goal against, then this is likely the problem – turn down your offensive pressure.
Same goes for almost every mode but it's a lot more noticeable when you can't take control of those AI players to try and recover.
Control Breakouts
How to adjust: Up or down on the D-Pad to bring up the menu then LB(L1) to cycle through breakouts.
Control breakouts are when you get full possession of the puck and then slow down play by taking it behind your net, usually with one of your defenseman. This gives your players time to get into position for the breakout. If you don't go behind or near your net then it's more likely they will form into a "Quick Breakout"; which we will cover shortly.
Strong Slide Slant
Description: Defender waits behind the net for the Center to swing. The Center and Right Winger will generate speed through the neutral zone, and Right Winger will cut to the strong side.
Centerman Horvat(53) is swinging down and Right Winger Virtanen(18) is cutting across to the strong side for the pass.
Blue to Blue
Description: Defender waits behind the net for the Center to swing. Both wingers will be options at the nearside and farside blue line.
Notice the center swinging down into our zone while we have a winger at each blueline just as the description calls for.
Three High
Description: Defender waits behind the net for a few seconds. All three forwards stay out high in the neutral zone.
If your opponent is frequently looking to intercept passes then don't use this strategy! You can see how it can be effective though, Daniel Sedin has a very nice looking lane to the net above. The below is from a different play but looks very similar.
Quick Breakouts
How to adjust: Up or down on the D-Pad to bring up the menu then RB(R1) to cycle through quick breakouts.
As alluded to above, Quick Breakouts are the alternative to the Control Breakouts. If you get possession of the puck and transition quickly up the ice then your players don't have time to properly execute a controlled breakout so they instead do a quick breakout.
These are the breakouts that most of you will see day in and day out. Not many online players post up behind their net for a controlled breakout. At least not that I've seen – perhaps you do?
*Apologies in advance for the terrible angle of the Quick Breakout videos. The action starts closer to the neutral zone in these breakouts so not sure what I was thinking. I could re-do them but I really don't feel like it right now 😀 you will have to just live with it I may update them later on.
Close Support
Description: The weak side winger will stay close to support the puck carrier on the breakout.
You can see how much tighter the forwards are in comparison to the screenshot you will see next for the "Stay Wide" option.
Stay Wide
Description: The weak side winger will stay wide when breaking out.
I'm on "Full Attack" as well here and even with the puck loose you can see the weak side winger is still making a bee line for that up high far side wide position.
Leave Zone Early
Description: The weak side winger will leave the zone early on the breakout.
Watch the player coming off the bench in the below video. As soon as we get possession of the puck he doesn't even get all the way into the defensive zone before stopping up and heading further into the neutral zone for that stretch pass.
Power Play Breakout
How to adjust: Must be on the power play to adjust during play. Up or down on the D-Pad to bring up the menu then LB(L1) to cycle through options.
Power Play Breakouts are initiated exactly like the Control Breakouts except, of course, you are on the power play.
Five Back
Description: All players come back to the puck. Once the last player is back, all 5 players will start to move up the ice together.
I didn't do a video on this one as I feel the screenshot illustrates it quite well. Nothing too exciting here – all players skate up the ice together and the puck carrier has several passing options.
I am now realizing this is the only breakout I didn't do a video for though… Might add one later on just for consistency sake.
Single Swing
Description: The puck carrier gets the puck behind the net. Both Defender and Forward swing as the puck carrier advances. The other forwards will be options at the near and far side blue lines.
The swinging defenseman and forward are not suppose to run into eachother like in the below video, but you get the idea.
Center Lane Option
Description: The puck carrier looks for the option in the middle of the ice. Upon zone entry, the puck carrier is looking to draw defenders and pass the puck to the outside.
You can see in the following video how the defense focus on the center leaving plenty of space for the winger once we cross the blueline. Pass off the puck as the description mentions then you got full control in the offensive zone and can get your power play setup.
Carry Option
Description: The puck carrier carries up the ice while having the option to either carry or pass the puck.

The in-game description above pretty much says it all here.
Power Play Line Strategy
How to adjust: Must be on the power play to adjust mid-game. "B"(Circle) to bring up the menu then RB(R1) to cycle through strategies. Can only be done between whistles. Some may remember when bringing up that menu during play meant you couldn't poke check anymore… What a nightmare!
These are similar to the Offensive Line Strategies in Part one except that you are on the power play. In-fact you can see that Overload is one of the options here as well and works exactly the same as it does in 5-on-5 play, but now you will have more time and space.
Shooting
Description: Strong puck movement and good point shots.

Somewhat similar to Overload but not so overloaded to one side, more spread out across the zone. You also have a player positioned more directly in front of the net for screens/rebounds.
Overload
Description: Best suited for skilled players.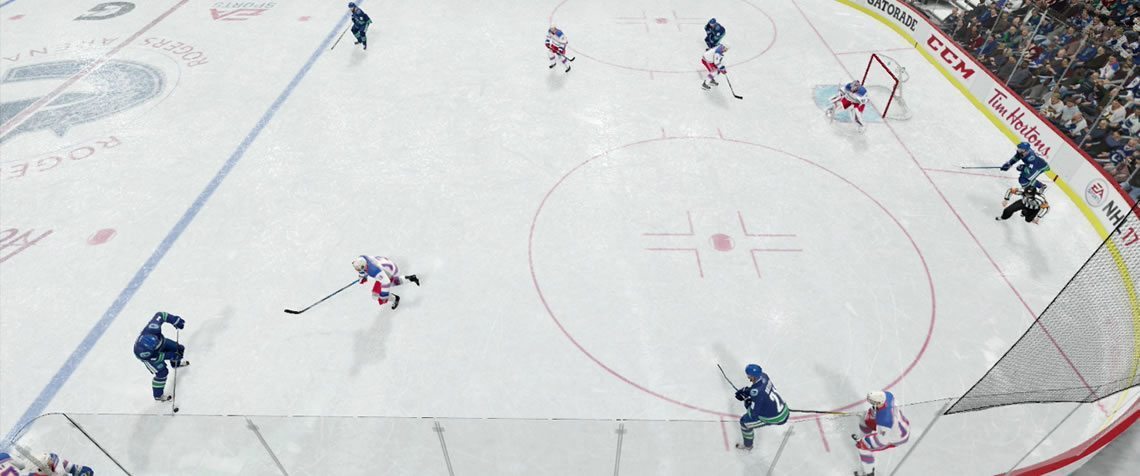 My favourite description is back again! Makes me feel so skilled when I use it. Anyways, if you read Part 1 then you will already know Overload. On the power play it is no different except that you will have more time and space.
The name comes from the fact that players overload the strong side. Usually involves a lot of passing around to try and pull defenders out of position and open up a shooting lane.
Umbrella
Description: Name based on the shape of the setup.
There is a major issue with my Umbrella setup above. The players on either side are the wrong hand. That makes a big difference on an Umbrella power play strategy as you want to pass it around and get it to your strongest shooter for a one-timer and if it's not going straight in the net then hopefully one of the two players near it can get the rebound.
I never pass up an opportunity to show some Ovechkin goals so I'll let him show you how to execute an Umbrella power play. What other NHL 18 tip sites or YouTuber's have Ovechkin giving you lessons? Nobody!

*The below isn't exactly an Umbrella setup. As you can see one of the players that would normally be lower is playing up higher in the slot. Bit more of a 1-3-1, but Umbrella is the closest to that in NHL 18.
Notice how both wing side players are the correct hand to rip a one-timer if the opportunity arises.
Muy importante!
As my Spanish friends would say, if I had any.
Penalty Kill
How to adjust: "X"(Square) to bring up menu then RB(R1) to cycle through formations. Again, can only be done between whistles mid-game.
The formation of your players when in the defensive zone killing a penalty.
Passive Box
Description: Creates a tight box in the defensive zone.
I didn't find that the passive formation to be that much tighter Positionally versus the Large Box; however, I did notice players were less likely to attack the puck carrier so in that sense it does stay tighter as players aren't stretching themselves out of position.
Large Box
Description: Penalty Killers attack the puck carrier.

As you can see in the screenshot it really doesn't look that different from the Passive Box, but as just alluded to you can see the player actively attacking the puck carrier and almost getting caught chasing them.
Diamond
Description: Great for covering Umbrella power play.

The reason this diamond setup looks so ugly is because it's really meant more for covering the Umbrella power play as the description mentioned. Having one player high and then one on each side and finally one in front of the net. In the above screenshot, the player up high has to go back and forth between the two D-men. A passive or large box strategy would be more effective against NYR's setup in this case.
Recommendations
It's tough to make recommendations on these because really it is going to depend on your opponents strategies and play style then also your own play style. Hopefully the above information has given you a good idea of what you would like to try and then you can find out for yourself which ones best suits your needs in any given game.
This is my first time really digging into these strategies so I'll be playing around with them a lot more in games now and may write a new post in the future if I find anything that is unusually effective.
The one recommendation I do very much encourage is the one I mentioned further up regarding the Offensive Pressure. Keep it at Standard or lower. AI defense in NHL 18 can very easily get caught being too aggressive – it's likely happened to you already and you may not have realized it.
Okay, that's it for now. I'm not sure what the next post will be but likely something related to scoring goals. Subscribe by email below or follow ChelTips on twitter if you want to be notified when it goes up!