A new year, a new month, a new EA Sports NHL HUT Set! This time the theme is "Outdoor Games", referring to the Winter, Heritage, and Centennial Classics(and Stadium Series). It will go from Jan. 5th – Jan 17th.
First off, I just want to say that the card design is fantastic. EA's designers really stepped up this time.  
Secondly, 90 OVR Datsyuk!  
In this Outdoor Games Set Guide I'll be covering the different collectible types, packs, subsets(including player stats), and how to complete them.
Oh and an awesome giveaway at the end!
If you aren't familiar with HUT yet then perhaps check out my Ultimate HUT Beginner's Guide first.
Collectible Types
Unlike the Gift of Giving Set, the type of Outdoor Collectible you have actually matters! Different sets require different collectibles.
There are 8 different collectibles that are found in the special Outdoor Games Set Packs: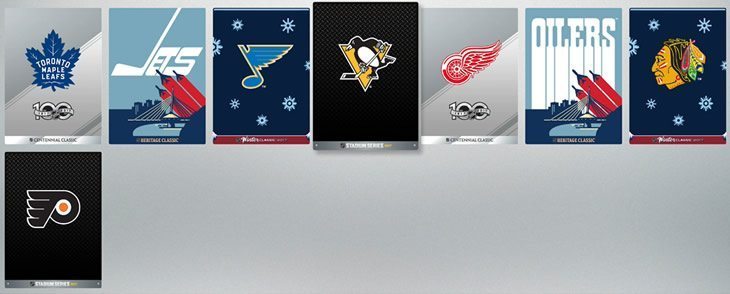 Toronto Centennial Classic
Detroit Centennial Classic
Edmonton Heritage Classic
Winnipeg Heritage Classic
Chicago Winter Classic
St. Louis Winter Classic
Pittsburgh Stadium Series
Philadelphia Stadium Series
There are also Master Collectibles that can only be obtained by completing an Epic player set.
Outdoor Games Packs
There are 3 special Outdoor Games Set Packs available in the HUT store from Jan. 5th until Jan. 16th.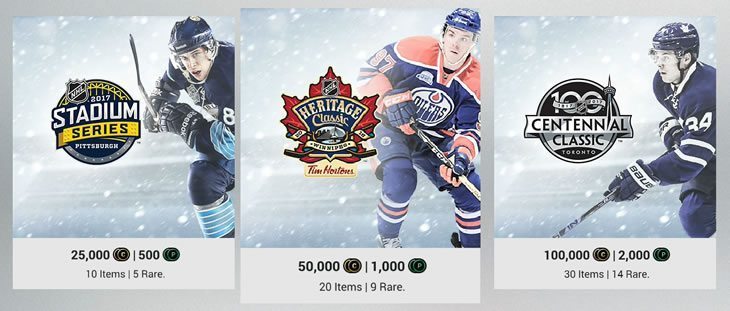 Outdoors Pack (Daily Limit = 5)

4 Gold Rare Players
1 Prospect of an Outdoor Games Collectible

Classic Pack (Daily Limit = 3)

7 Gold Rare Players
X2 Prospects of an Outdoor Games Collectible

Ultimate Classic Pack (Daily Limit = 2)

9 Gold Rare Players
X5 Prospect of an Outdoor Games Collectible
*The limit is refreshed every day at 7PM EST
The above information was shared by EA Sport's Community Manager – source
How to Complete Subsets
The Outdoor Games Set consists of 2 Novice, 4 Epic, and 1 Master subset.
Novice
Both Novice subsets require an Outdoor Collectible, but it doesn't matter which one.
Coin Bonanza: Trade 1 Outdoor Collectible in for straight coin – ranges from a possible 1000-200000.
While the possibility of 200,000 makes it sound like a very intriguing set to complete, the likelihood of getting that is probably extremely low. With that said, I did one anyway for an example.
Yeah, wasn't worth it…
Outdoor Game Collectible Reroll: Since the Epic player sets each require their own collectible types, EA added in a set that lets you reroll a collectible into another random Outdoor Games Collectible. The only catch is that it costs you a Gold Collectible each time you reroll. Here's an example:
If you are wondering how to get Gold or Carbon collectibles then see the Trading Post section of our HUT Guide.
It took me 6 rerolls to finally get a Centennial Collectible, they seem to be more rare than the others. Regardless, I'm not convinced rerolling is better than just selling and buying the one you want, it's a risk for sure.
Epic
Okay, we're getting to the good stuff! There are 4 different Epic sets to complete, each with it's own 90 OVR player that has played in at least one Outdoor game in their career.
90 OVR Pavel Datsyuk = x2 Maple Leafs Collectibles + x2 Red Wings Collectibles + x1 Carbon Collectible
90 OVR Shawn Horcoff = x2 Oilers Collectibles + x2 Jets Collectibles + x1 Carbon Collectible
90 OVR Brad Richards = x2 Blackhawks Collectibles + x2 Blues Collectibles + x1 Carbon Collectible
90 OVR Ilya Bryzgalov = x2 Penguins Collectible + x2 Flyers Collectible + x1 Carbon Collectible
I was really excited about Datsyuk, but after seeing his stats… less excited. I'd personally rather go with Brad Richards.
With that said, I haven't actually played with any of them yet so that might change my mind.
**Every epic player set comes with an Outdoor Games Master Collectible
View HUTDB Epic Player Comparison.
Master
Once you have completed all the Epic sets and collected all 4 Master Collectibles then you will be able to complete the Master set and earn yourself a 93 OVR Willie Mitchell!
93 Willie Mitchell = 4x Outdoor Games Master Collectibles + 4 Carbon Collectibles
Yeah, I know that probably doesn't sound very exciting to a lot of you; however, check out Willie's stats: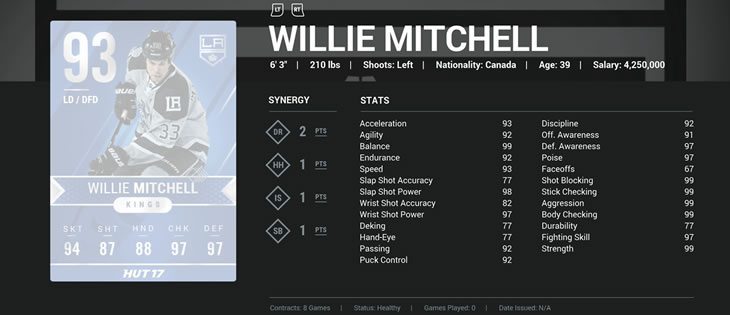 An absolute beast! His shot leaves something to be desired, but that is to be expected from a Defensive Defenseman.
I'm just gonna leave this quick flash back here:
Sorry Chicago fans!
Christmas Kris Versteeg Giveaway
I plan to do a giveaway with every new Set that comes out. Similar to what I did last time.
For this set I'll be giving away the 90 OVR Christmas Kris Versteeg that I got from the last set. Unfortunately, it will only be for Xbox One players again.
I even loaded up the player contract for whoever wins! We really go the extra mile at ChelTips…
How to Enter:
Add a comment below
including the players you would pair with Versteeg on your team.  
ie.
Ovechkin – Crosby – Versteeg
Also, confirm you are on Xbox.  
IMPORTANT:
Use a valid email address as that is how I'll contact the winner  
*If you have a question or comment about the post, feel free to add it even if you aren't entering the giveaway 🙂
Draw Date: Winner will be randomly drawn when the Set ends, January 17th at 7PM EST.
The winner is MATT
! Congrats. (winner selected randomly via random.org)  
Thanks to everyone who participated, many more giveaways to come.
Want to support ChelTips and stay up to date with NHL 17? Follow on Twitter or Subscribe below.