Have you ever been grinding along the boards in the top left corner of the rink then the scoreboard is just like "Hey look at me!?! I don't give a F#&K if you can't see the puck or anything you are doing" … oh hey the puck is going the other way now. Cool… thanks scoreboard.
Okay maybe I dramatized it a bit, but you get the point. Due to the following reddit thread I realized it is likely as annoying for other NHL 17 players as it is for me:
You can see it is the second most upvoted question that redditors wanted to ask Rammer and thanks to Jayme McDonald at Intergalacticinterviews.com, it did get asked. You can listen to Rammer's response here: Intergalactic Interviews – Ep. 104 – Sean Ramjagsingh (35m 15s)
In short, Rammer said you can change the size of the scoreboard and that it should go transparent when the puck is there. I agree that is how it should work and it does with the "authentic" sized scoreboard but not with the "small" size. Now why is that? That is what I wanted to share here and hopefully Rammer and/or the devs might see it, if they don't already know.
*This post is NOT meant to blast EA Sports or anything like that, I just want to show EA that this is indeed a bug and is affecting quite a few users. My day job involves working with software developers so I totally understand that there needs to be some prioritization between issues. Something like the current stick lift debacle will be at the top of the list while scoreboard transparency might get thrown on the back-burner; however, the above interview clip makes me feel that this bug isn't confirmed within EA so I at least want to ensure they are aware of it and the potential large amount of players it is affecting.
It was an issue last year in NHL 16 as well and perhaps previous years? I'm now realizing the reason it isn't addressed in 17 may be that the devs are just unaware of it.
The solution seems relatively simple to me so it could be an easy win for EA Sports and all of us NHL 17 players 🙂
*I don't have any experience with game development so it may be more difficult to fix than I'm assuming, hopefully not!
These next sections will be bug details for the developers.
The Bug
Description: The issue is that the NHL 17 in-game "small" scoreboard(score clock) only goes transparent if a player has POSSESSION of the puck in that top left corner. If the puck is loose then it won't go transparent. This means when you are in "Overhead" view battling for the puck in the corner you end up with it flashing in and out of transparency as you gain/lose possession. It's very difficult to get the puck when you can't see it – especially if you are battling against the AI since they obviously know exactly where it is.
Video of scoreboard transparency while the puck is loose versus in possession:
I went into a "Play a Friend" game to confirm the issue.
You can see above that if either myself or my buddy have the puck then it is fine but as soon as one of us loses it then the scoreboard is back.
Views: This only affects the "Overhead" view. In my opinion, overhead is the best view as you can see all of your players. It appears to be quite popular for that reason – especially in the EASHL as it is basically a requirement if you play defense.
Score Clock Size: Only affects the "small" score clock size. Authentic works as expected. So why not use Authentic when in Overhead view? Authentic is huge! I guess sometimes smaller is better.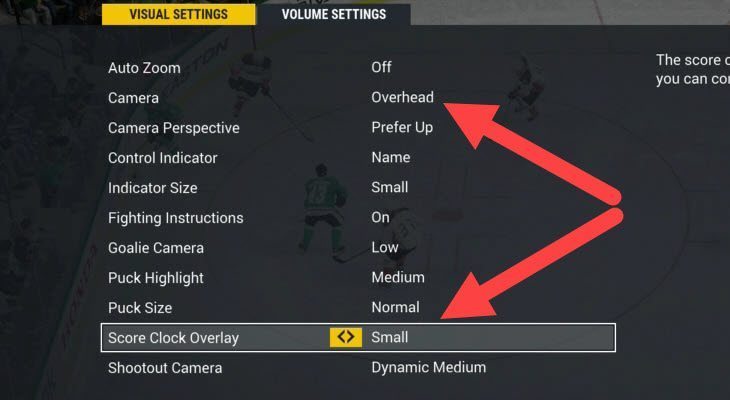 Potential Solution
Make the "Small" score clock size behave exactly the same as the "authentic" size.
Authentic Score Clock example:
You can see that the authentic size goes transparent almost immediately when entering the opponents zone and it stays that way while in the zone whether you have the puck or not. Then once you leave the zone it comes back. That would be perfect if applied to the "small" size as well.
—–
Thanks for reading. See ya behind the score clock!